I finished the second volume about a year ago but because there was a major renovation going on, the book got stuck in the boxes. Finally dug it out and boy, it's a ride that I plan on staying! 😘
Spoilers ahead ^_^
The book opens with (fake!)Ran being briefed about her role as a servant and a distant relative of Tachibana who is caring for Masato's bride. Tachibana, a student and also Masato's right-hand man, asks about her previous life and her real name. Since she doesn't have a proper name, he decided she will share the same name as her namesake, Ran (written in hiragana).
Ran learns how to read and write (somehow Grandpa left that out. Perhaps he didn't think that count as survival skills?) but has difficulty keeping at it. At the same time, she plans to exact a pay-back on Masato for stepping on her Grandpa's plaque.
Tachibana hesitates because of his loyalty but he promises to help Ran in any way he can. He also suggested Ran to step on Masato's uniform as it belonged to his father. An eye for an eye, no? ww
I won't say how it ends up but let's say that loyalties has been divided but all parties are supposedly satisfied ;3
Fast-forward to the next chapter, Masato caught wind of rumours about a high-born lady running away from home because she resisted her arranged marriage.
Both Ran and Masato goes into town in search of confirming the rumour. Since Ran started her work as a servant, she has been talking to someone of her own age (and gender ww) and so much learning done in between! She mentioned how less time has been spent on saving people.
Masato reminds her that her life was to protect his and no one else's. Still, she managed to slip in a few of them on their way to town (however much Masato silently protests 😂). Ran really can't help herself.
The family inheritance crisis hasn't made an appearance in this volume but rest assured that something is simmering behind the scenes www Masato has a younger sibling, Akira who is planning something awful for his "bride"…
The third volume released on April 5, 2017 with the fourth volume planned for winter. A 12-page short of the series also made an appearance in AneLaLa. Buy links are below.
The series has also made their first cover feature on LaLa DX September 2016 issue. On top of that, it's part of Hakusensha's Autumn Hakusen Shoujo Mangadan! (Likewise, Ran's almost invisible that I didn't notice until I took a second (and good) look at the site, ahaha)
I'm so happy to hear the series is doing well! If it's published in your country and you can afford it, buy a copy to show your support for the author. They do get copies of translated releases when they're published ;3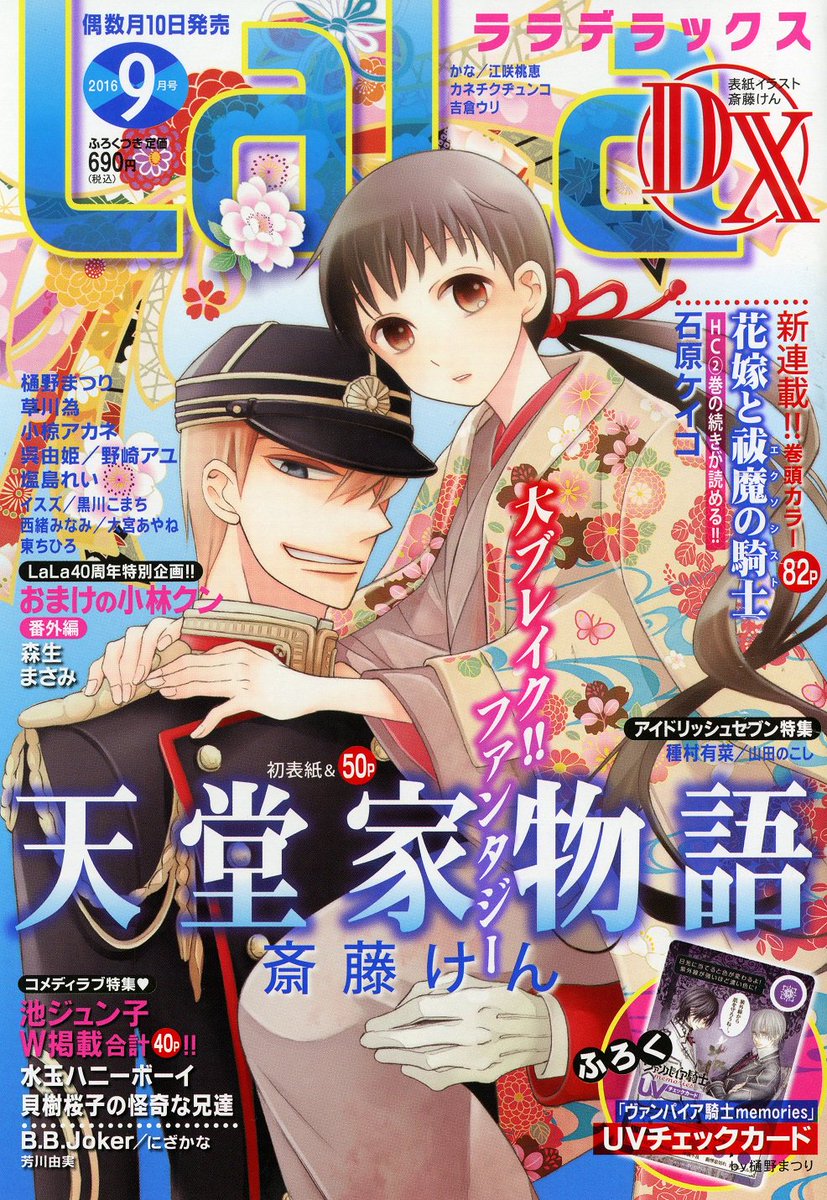 LaLa DX September 2016 cover from @LaLa_info
✨Where to buy✨
Tendou-ke Monogatari vol.2
CDJapan / Amazon Japan / eBookJapan
LaLa DX September 2016
CDJapan / Amazon Japan
Tendou-ke Monogatari vol.3
CDJapan / Amazon Japan / eBookJapan / BookWalker Japan
Tendou-ke Monogatari 12-page short at AneLaLa
eBookJapan / Amazon Japan (Kindle) / BookWalker Japan
Here's the key visual for the 2016 Hakusensha Mangadan. Doesn't it look splendid? :3